Nescafe White Coffee pandan from Lazada Malaysia
Happy to share with you one of my favourite coffee which is the Nescafe White Coffee pandan flavour. You can also give this a try if you love coffee and I find many of my friends have same interest and taste like me. Counting down on Christmas and New Year soon, that's not all I am not ready for Chinese New Year. Gift ideas I am thinking of for exchange gift for Christmas and also for Chinese New Year gifts. I wanna share with my readers and visitors on this blog that you can check out
Online Revolution
, click on the link to view it now. With Internet access, you can shop online with just few clicks away. No worry if you prefer to shop online in Bahasa Malaysia, you can click on the right top of the website to choose your prefer language.
Lazada Malaysia unveils the biggest online shopping event in Southeast Asia, Online Revolution, with participation of more than 1,000 brands and 55,000 international and local merchants. This month-long event, which takes place from 11 November 2016 to 14 December 2016, is Lazada's fifth Online Revolution since its inaugural launch in 2012.
Loving to shop online for loved ones because I dislike queuing to park in the mall or long queue to pay. Great theme to shop this year because the theme for this year's Online Revolution is "Brands for All", and marks Lazada's evolution into a one-stop shop for Malaysian's favorite brands. Participating brands in this year's Online Revolution include Drypers, L'oreal, Nestlé, Samsung as well as Prodiet, Microsoft, ZTE, Goon, Bosch, Tesco, Mattel, Sports Direct and many more.
What I love about shopping at Lazada is I can type in the search box on the items that I am looking for.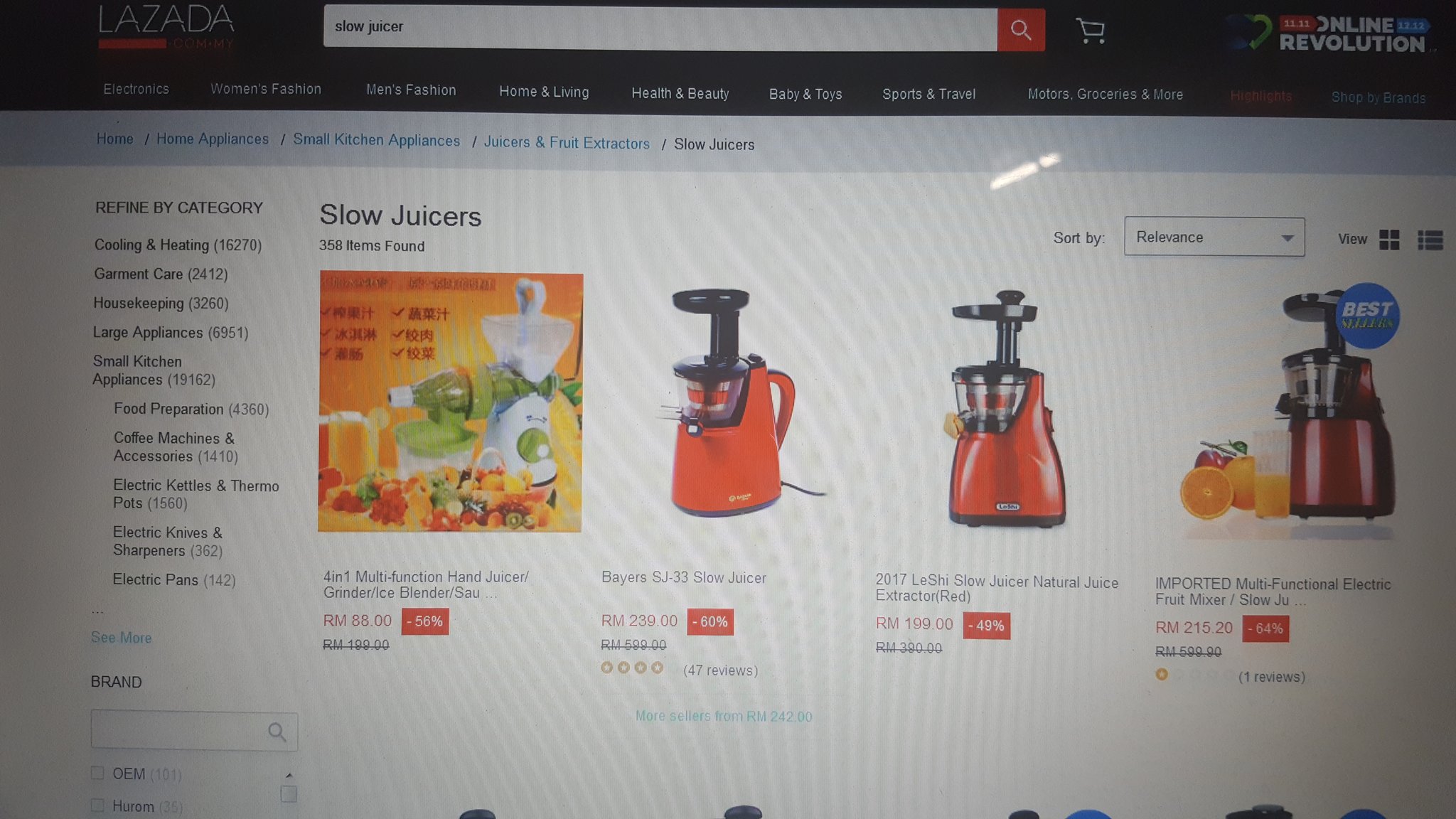 looking for Slow Juicer
First thing I think of is the
slow juicer
because my dear been asking me about where to purchase the slow juicer. I find that they are many brands available at Lazada website. Gonna tell him about it and let him browse the website. He says important of health and because he loves health and wellness, he says he gonna invest one for a long term for life.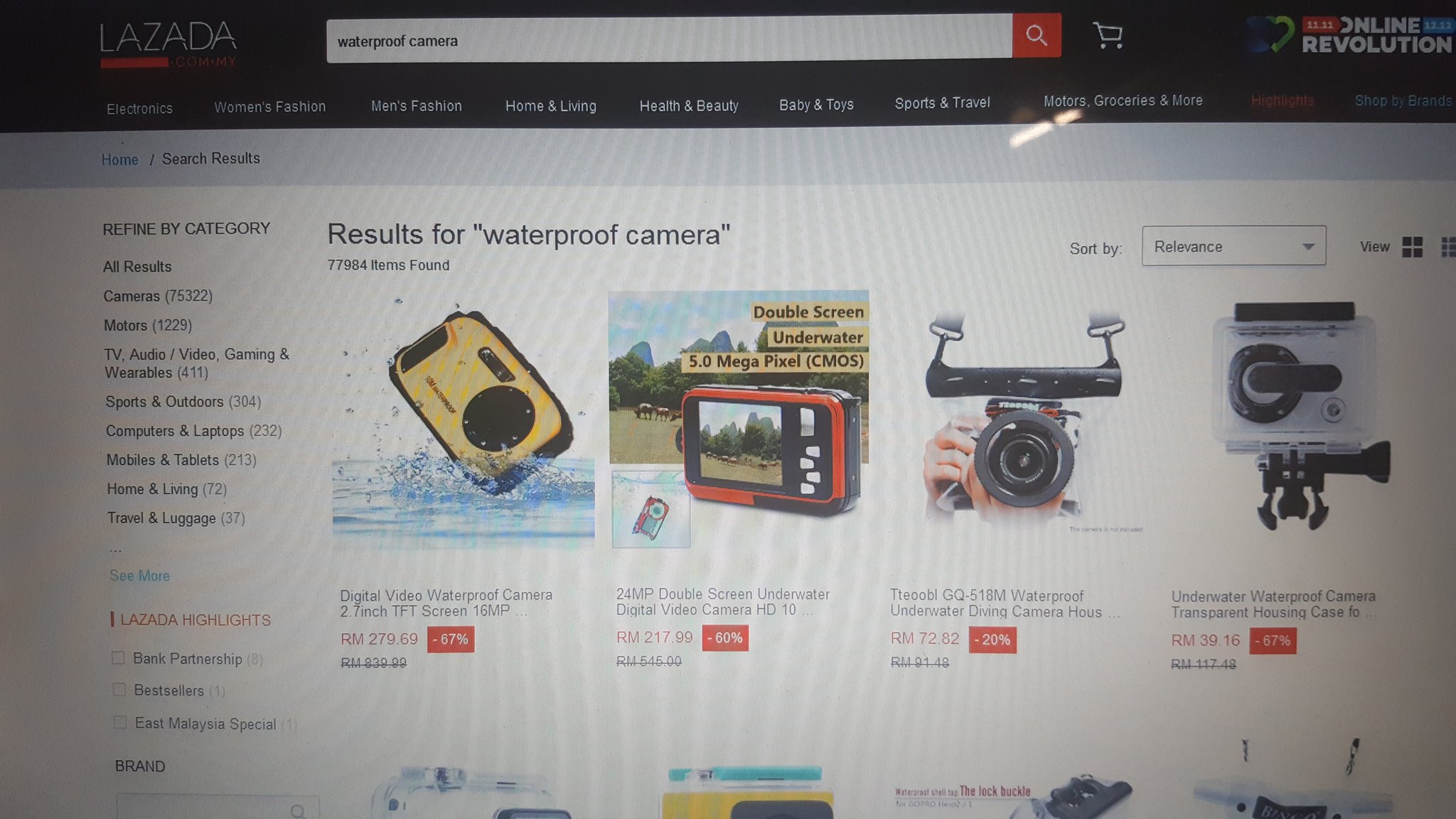 As for me because I love to take photo I prefer a
waterproof camera
, as sometimes out in waterpark we do not have a proper camera to use. Many happy and unforgetable moments we not able to capture. Besides browsing here I can roughly the price that I need to pay, I can start saving for buying a waterproof camera. I want to capture happy moments of my sons playing water.
We can also shop groceries online, now lets go discover more than 500,000 deals, including jaw-dropping offers from international and local brands, as well as exclusive launches of branded items. Lazada Malaysia will also feature promotions from various marketing partners – shoppers like you and me will stand a chance to win free flights from AirAsia Big, as well as special offers from DiGi, Maxis, Domino's Malaysia, Caltex, HSBC, CIMB, TGV Cinemas and Maybank during the 2016 Online Revolution.
About Lazada Online Revolution
The Lazada Online Revolution is the biggest online shopping and selling event in Southeast Asia bringing brands, retailers and consumers together in six countries.
Lazada started the Online Revolution on 12 December 2012 (12.12) to educate consumers on online shopping and its conveniences. The one-day sale sparked a shopping frenzy that grew into an annual month-long event.
Since then, Lazada Online Revolution has proven itself to be Southeast Asia's busiest online retail event. In 2015, US$40 million in Gross Merchandize Value was recorded in its three-day finale.
Lazada Online Revolution 2016 will see big retail and marketing brands participate to create an unmatched assortment of popular, quality products, and the best deals for Southeast Asian consumers.